How a New Approach to Subscription Helped Increase Revenue and Customer Retention
For those that love coffee (and we do), there is little that can replace the experience of sipping the perfectly brewed cup of coffee. Copper Cow Coffee is on a mission to help coffee enthusiasts create barista-quality coffee at home that is convenient, sustainably grown, and customized to their unique tastes. As they grew their retail footprint, Copper Cow saw an opportunity to evolve their e-commerce coffee club. We worked with Copper Cow team to rethink their site into a simplified and personalized experience that helps customers create and manage a subscription to their coffee preferences.
What We Did
Competitive landscape analysis
UX design
Usability testing
User interface design
Visual design
View our Capabilities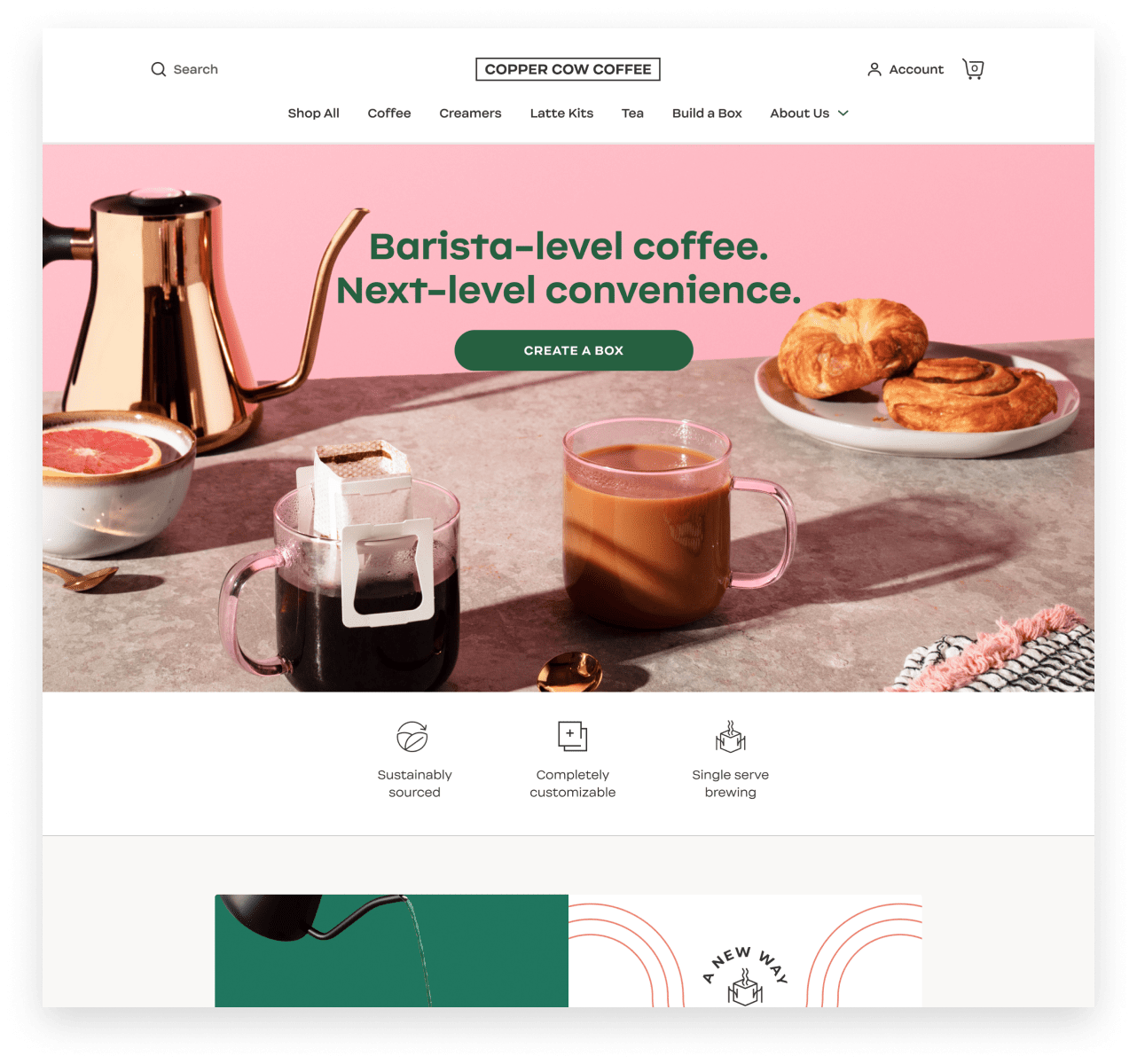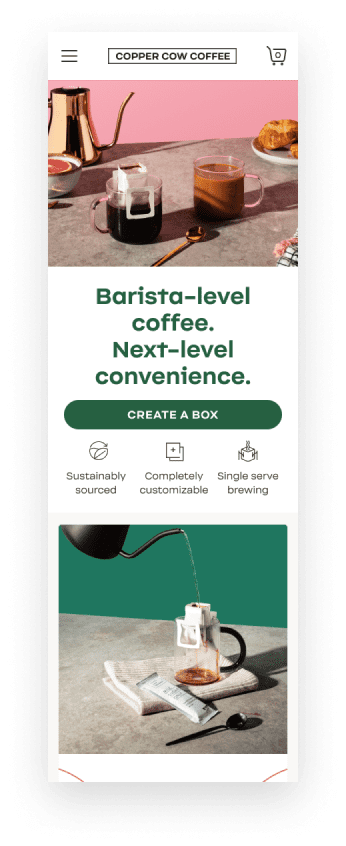 Defining the User experience
Creating the Foundation for a New Subscription Experience
Copper Cow Coffee's product is innovative in its single-serve pour-over format, naturally flavored coffees, and sweetened condensed organic milk creamers. In addition to educating the customer on the coffee's differentiators, the team wanted the process of signing up for a subscription to be seamless and engaging.
With those details in mind, we designed a straightforward navigation structure that exposed their top categories and drove customers to a build-a-box experience. Next, using personalization quiz best practices, we designed a simple quiz to help guide customers into customizing a box of coffees that would meet their needs. Then, while building the box, educational modules helped explain how to make the coffee and how the coffee was sourced. Next, we needed customer feedback.
We learned that customers overlooked details like how the coffee is made, how coffee selections are personalized, and how the coffees are naturally flavored.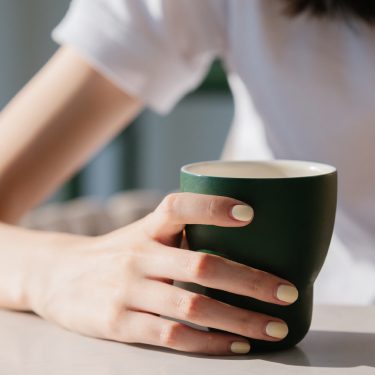 We learned that customers overlooked details like how the coffee is made, how coffee selections are personalized, and how the coffees are naturally flavored.
Learning from customers
How Usability Testing Uncovered New Insights
We conducted two rounds of usability testing on the quiz and sign-up flow to understand what questions people have and what points in the flow are cumbersome . We updated the design after each round of testing based on the user feedback. This process helped us hone in on a simple but informative shopping experience that educates the customer about the unique Copper Cow brewing system, sweet creamers, and flavors. In addition, the subscription box was refined to showcase the ways that the customer personalized their box.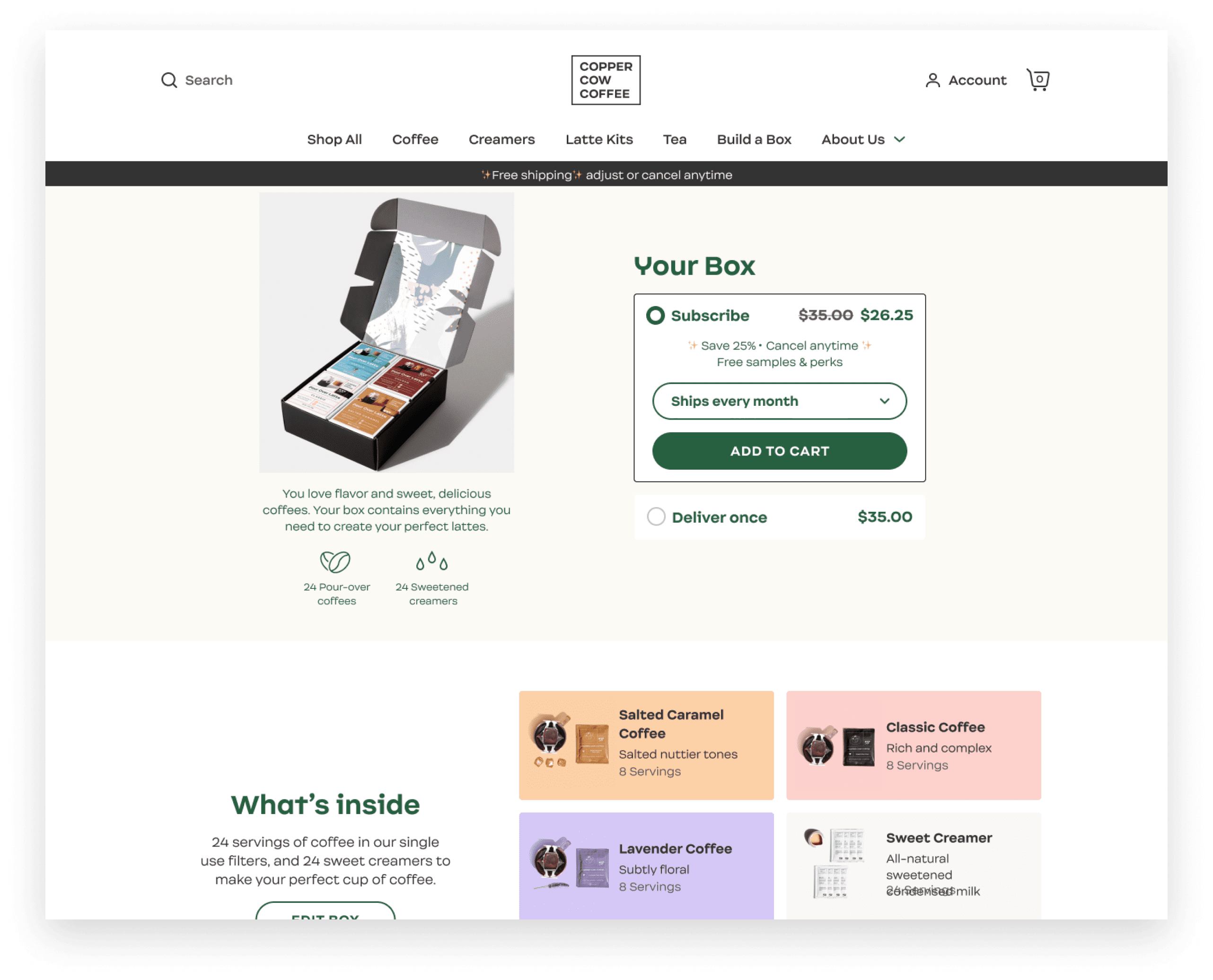 Extending the Experience
An Updated Look for a Personal Shopping Experience
We re-designed the site from the homepage to checkout to create a more seamless coffee subscription experience. While customers shopped, content blocks highlighted the excellent ingredients and product versatility while answering common questions. In addition, we designed multiple pathways for customers to subscribe, from a traditional shopping flow to building a personalized box. Using subscription account management best practices, we designed an account experience that makes it easy for customers to manage upcoming shipments and cancel their subscriptions. Finally, we created a mobile-first design system that can be extended to future feature releases creating a cohesive digital product experience.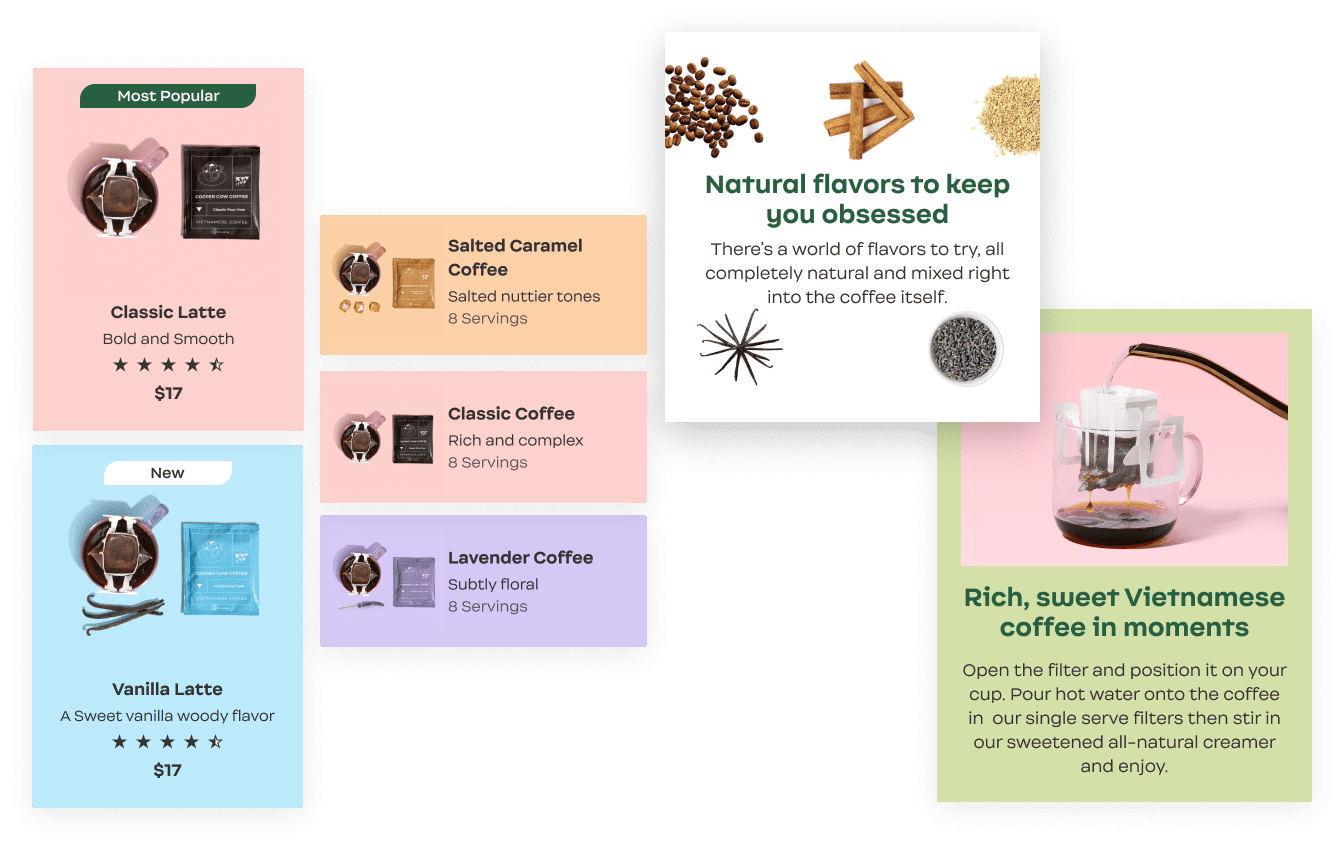 Outcomes
A Simplified Subscription for More Loyal Coffee Fans
After launching the new site design, Copper Cow saw a significant increase in subscription revenue and an improved retention rate of subscription customers. We continued to work with the Copper Cow team as they grew their product and subscription offerings to introduce more customers to their new favorite cup of coffee.