To keep your subscription service's customer satisfaction scores high and churn rates low, every touchpoint of the user experience needs to hit the mark – including how your customers manage their account.
Confusing account management experiences are all too familiar with subscription services. Chalk it up to easy-to-implement eCommerce platform plugins, engineering limitations, or juggling too many business priorities. It happens.
Whatever the stumbling block, beware. If you ignore a poor account UX for too long, you could see frustrated customers who prefer to cancel than spend time managing a poor subscription experience. Hello, low net promoter score, poor customer satisfaction, and a customer LTV in need of resuscitation.
Luckily, there are plenty of ways to ensure your customer's experience with managing their account is simple and seamless.
Make It Super Simple For Customers to Access Their Next Order Details
Your subscription-based service should have a different customer account structure than standard eCommerce sites.
Your customers frequently need to revisit their account information to manage upcoming items in their box, understand the cost, and change bill dates or shipping frequencies to accommodate their lifestyle.
Simply put: There's a lot more for them to do. And it's your job to ensure it's easy for them to do it.
Your first order of business is to give customers a clear path to access and manage their next order. Those details should be the first thing they see when they open their account. For example, ButcherBox's account management user experience provides a page dedicated to the subscriber's upcoming order. From this page they can edit every aspect of their box including bill date, plan type, and items.
To make this happen, create a primary navigation element dedicated to the upcoming order (like the ButcherBox example, Next Box). The customer's 'Next Box' is an easy-to-scan overview of all the critical information they need to feel confident about their upcoming delivery, including the total cost, items in the order, ship date, and estimated delivery date.
In addition to clearly articulating the details about the upcoming delivery, provide easy-to-access CTAs to allow the customer to make changes. If they're going out of town or want to add a new item they're interested in; they'll have an easier time completing their task.
The easier it is for your customer to navigate their 'Next Box' information, the less likely they will sound the alarm and contact customer service to complete a task.
Show Your Customers Your Subscription Service Offers More
You've made it easy to access the upcoming order. Now you need to make it easy to change the contents of their order. Many services only show you what is shipping in your next box, but you can go one step further. Give your customers opportunities to add and remove items to their box assortment.
Your customers may change their minds about what they want or need in their next box. By providing them an easy way to make changes, you're giving them the means to control their own experience and feel confident that what they are receiving is something they need.
Even a simple CTA that says "Add products" can hint to customers that there are available options they may not have considered.
They say variety is the spice of life. As it turns out, it's also essential to prevent customer boredom with your subscription. So make it easy for them to see what else is out there and add it to their next box.
Highlight the Personalized Value Your Subscription Delivers
Your customers signed up for your subscription because they were looking to solve a problem, and your subscription service fits the bill. Use this to your advantage by showing them the value they've received since becoming a member. Doing so reinforces why they signed up for your subscription service in the first place. 
Understanding how the subscription is part of the customer's life over time is critical here. You can't just highlight any statistic like how many products they've purchased or boxes they've received; it should mean something to them. 
Knowing your customer's values and motivations for using your subscription is invaluable because you can tailor the metrics to what matters to them. If you aren't sure what motivates your customer to buy, consider running a qualitative research study that will yield the insights necessary to determine how your subscription solves customer problems. 
Say you're a subscription service that delivers healthy vegetarian meals for customers to cook. You could show the carbon offset based on the number of meals eaten (climate-conscious buyers), the pounds of nutritious vegetables they've cooked (health-conscious buyers), or the estimated money saved by not eating out (price-conscious buyers). 
Highlighting each customer's personalized value is like a pat on the back whenever they open their account. Not to mention, it's an excellent tactic to make a customer think twice before hitting the cancel button. 
Offer a Differentiating Feature as Part of the Subscription
Managing an account doesn't have to be boring. Go the extra mile by providing a helpful feature that will excite your customers.
This can't be any kind of feature, though. It must be relevant to how your subscription fits into your customer's lifestyle.
For example, when we designed the Blue Apron app, we noticed people were saving the physical recipe cards to use in the future. After receiving several shipments, however, the recipe cards became too cumbersome to keep and sort through.
Knowing this, we designed a virtual recipe box that allowed customers to keep the recipes they liked in their account and toss the ones they didn't. It was simple enough to search and easily accessible on their phones.
Provide Plenty of Pathways for Managing Their Subscription
Your customers' needs are different and change over time. So giving them multiple ways to manage their subscription and what they receive can go a long way. 
Allowing your UI to accommodate different shopping behaviors is an excellent starting place. For example, do your customers like to browse items and save them before making purchase decisions? Or do they shop with a laser focus, preferring shortcuts for adding items? 
Your UI should support both behaviors. Doing so accommodates customer preference and improves the subscription management experience.
Another good example is managing shipments. Customers have countless lifestyle reasons to manage their shipments. From vacations to shifting habits and upcoming holidays with family in town, providing multiple pathways to manage shipping cadence is essential. Think about offering them flexible ways to:
Lengthen or shorten shipping frequencies  

Manually select a new shipping date (any date!)

Indefinitely pause the subscription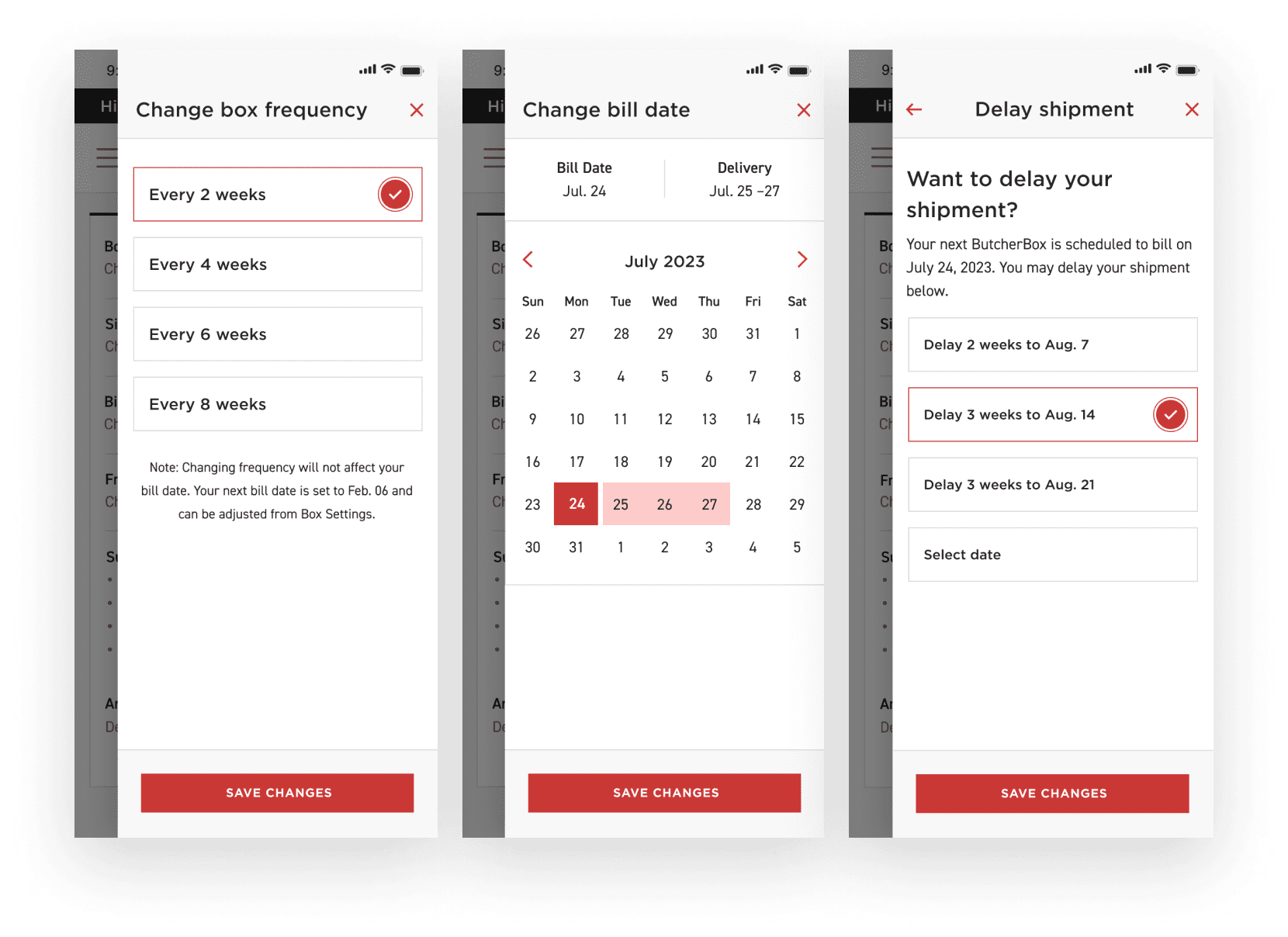 The ButcherBox user experience provides subscribers with multiple ways to manage upcoming shipments. For example, customers can change their frequency and bill date and are prompted to consider delaying their next box in the cancellation flow. Don't worry; you don't have to give them every option under the sun (that may complicate what should still be a streamlined user experience). Instead, designing three or four ways to accommodate each task can be enough. 
You can't evolve your subscription service without first strengthening every detail of your customer's experience. Designing an uncomplicated — even delightful — account management experience goes a long way to ensure their entire experience is rock solid.