How a New Mobile-First Shopping Experience Helped This Subscription Service Improve Conversion and Increase Average Order Value
ButcherBox is a subscription service that delivers 100% grass-fed grass finished beef, free-range organic chicken, pork raised crate-free, and wild-caught seafood to its members. Their existing sign up flow and box management was complicated and challenging to use on mobile. As a result, potential customers abandoned the sign up flow and existing customers grew increasingly frustrated with poor UI to manage their box. We worked with the product and technology team to redesign a mobile first sign up flow, a new member shopping experience and improved box management UI.
What We Did
UX assessment
Usability testing
Customer interviews
UX design
User interface design
Visual design
View our Capabilities
Project Type
Subscription eCommerce
Responsive web
Customer Insights
Aligning the Team With a UX Assessment
To start the project, we conducted an in-depth user experience assessment of the ButcherBox site that consisted of a UX audit, unmoderated usability testing, and customer experience interviews. The assessment allowed us to see where there were inconsistencies and friction points across the experience, where potential customers encountered challenges within the sign up flow, and top complaints among current customers.
Insights gained during the UX assessment aligned the team on design opportunities for the new acquisition flow and member experience: communicate ButcherBox service and product benefits early and often, anticipate a member's information needs, and create a consistent mobile first design system.
The UX assessment highlighted challenges potential customers encountered within the mobile sign up flow, and top complaints among current customers.
The UX assessment highlighted challenges potential customers encountered within the mobile sign up flow, and top complaints among current customers.
Improving mobile conversion
Designing a Mobile First Sign Up Flow
Using insights from our UX assessment we overhauled the mobile design to include big tap targets and a simplified 4-step signup flow that transformed the experience to feel seamless and quick. At each step of the experience, we created a system to reinforce ButcherBox's service benefits.
We designed a new UI that included a wizard navigation to set expectations about the length of the sign up process along with a 'Your Box' panel that allows users to view and easily edit the selections they've made. We conducted usability testing on the new design to identify immediate opportunities for improvement.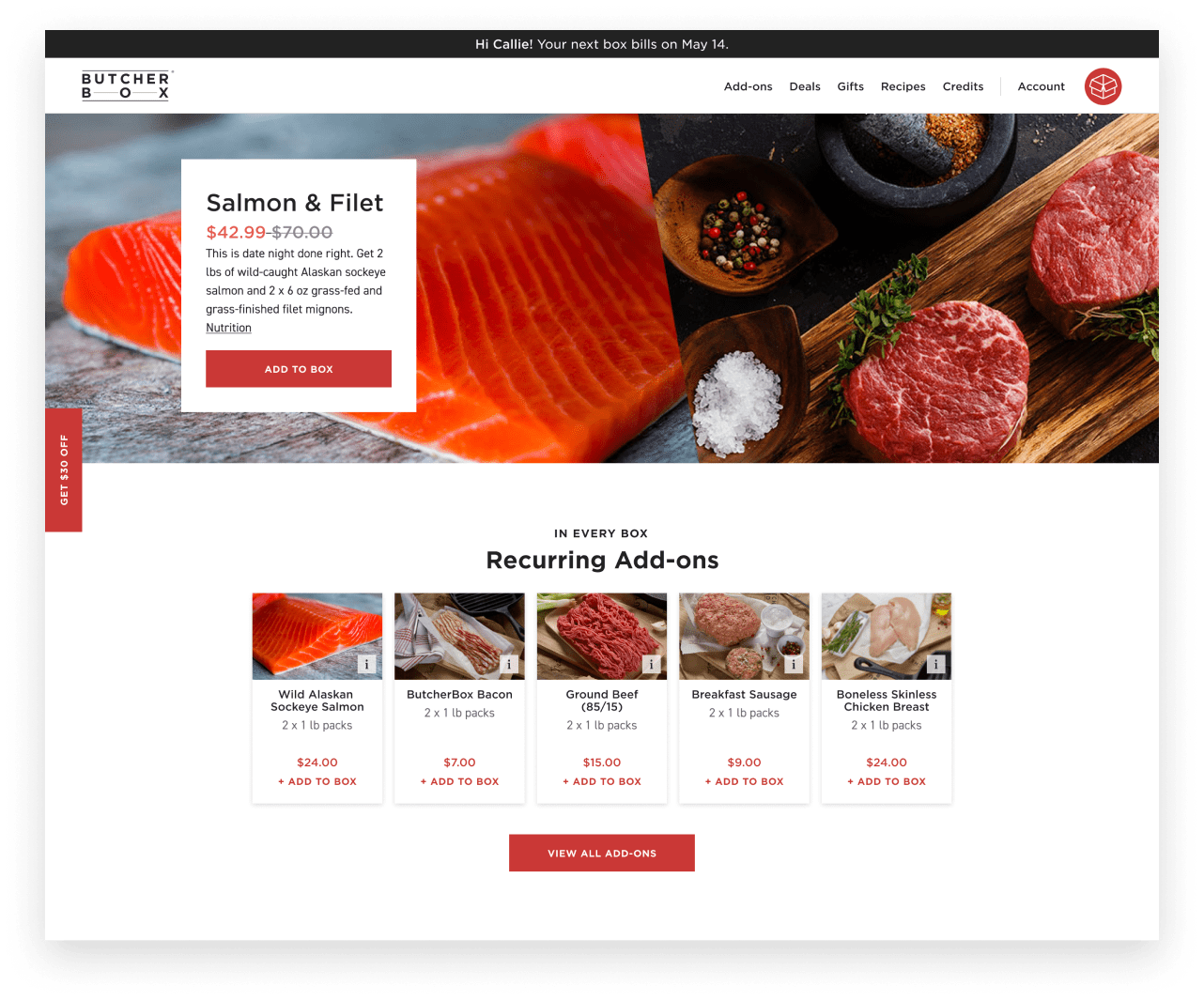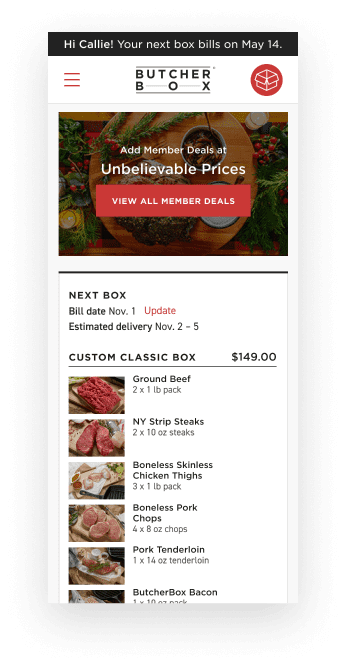 Extending the Approach
Creating a Simple Shopping and Subscription Management Experience
Next, we used the same principles from our UX assessment to create a simple mobile first shopping and subscription management experience.
We designed a new member homepage and navigation that promotes deals and add-ons, and reinforces ButcherBox's service benefits. We redesigned the subscription management experience to prioritize the most important information at-a-glance: cuts in your box, bill date, estimated delivery, and total cost.
A sub-navigation provides members a clear path to access box settings, view order history and update their profile & payment information. We also created a mobile first design system that can be extended to future feature releases creating a cohesive digital product experience.

Outcomes
Improved Mobile Conversion and Higher Average Order Values
Key metrics improved dramatically after releasing the new sign up flow and member shopping experience. Mobile conversion improved significantly and average order values amongst members increased as more deals and add-ons were added to boxes.
The new at-a-glance subscription management design reduced member friction and as result inbound calls to the CX team. We've continued to work with the ButcherBox product and technology teams on new feature design and optimization along with continued customer research.
Everyday has been an amazing partner – they work in such a collaborative way that they truly feel like an extension of our internal team.
The UX thinking they have brought to our process has helped us prioritize the things we know are important to our members. As a result, our overall site experience has improved significantly since we brought them on board!"
Callie DePina
Head of Member Experience