I recently moved to the northeast and always keep my windows open during the spring and summer months. As a result, pollen and city air debris would frequently enter my apartment. During winter, my radiator heating ensured me warmth but also dried my apartment out.
With the increase of particles in our indoor air, whether dust, pollen, or a result of wildfire smoke, it has never been more critical to keep track of your indoor air quality. To address these issues, I invested in an air purifier and a humidifier.
Searching for a Simple, Wi-Fi Connected Device
The goal seemed simple. Find a pair of devices:
An air purifier that allows me to filter my air year-round.

 A humidifier to use in the winter. 
I was interested in finding an air purifier that would monitor the air quality of my apartment, run silently in the background, and allow me to view performance over time. For the humidifier, I was interested in monitoring and maintaining the humidity level in my apartment.
After some research, I narrowed my search to Levoit products due to their affordability, quiet operation, and compatibility with Wi-Fi. Levoit stood out to me as an established brand with smart technology that is reliable and cost-effective. Levoit also has an ecosystem of devices that convinced me they could be my one-stop shop for household devices.
With that in mind, I picked up a Levoit 300s air purifier and a 300s humidifier.
Downloading the VeSync App & Connecting my Devices
When the boxes arrived, I was ready to put them to use. Inside each box were manuals that provided clear instructions on the setup process. I quickly installed the filters and downloaded the VeSync app to connect and complete the setup.
The app was easy to find, although I did wonder why the app wasn't branded as a Levoit product. The Levoit website advertised the app; however, the lack of Levoit branding in the App Store listing made me double-check that I was downloading the right app.
An Onboarding Flow With Unusual Questions
The setup flow was straightforward. After creating an account, I was prompted to complete the app onboarding. The questions seemed routine until the app asked personal health questions. These questions confused me as I was unsure why personal details like this would be necessary to operate my air purifier or humidifier. I could skip these screens, directing me to the home screen. Here, I could add my new devices.
A Seamless Syncing Experience
Syncing the air purifier with the app was seamless. The app quickly recognized the device by tapping a button on top of the air purifier. The app allowed me to customize its name, photo, and location in my home. Adding a second device was as simple as tapping the plus button and selecting my device from the list. I added my humidifier next through the same process with no issues.
A Familiar Home Hub User Interface
The app felt similar to other smart home hubs I was familiar with, like Google Home or Apple Home. I could set scenes to automate multiple devices simultaneously and control each device individually. Even though I don't have many connected devices, I wanted to see how this app would fit into my life and how it might change some of my behaviors.
It was clear that I could add a network of devices to my "Home," which I coined "The Realm." The app even provides many different experiences depending on your device. More on that later.
Controlling my Devices and Monitoring my Air Quality
From the home screen, I could access the individual devices and their associated actions with high-level actions like power-on available on the home screen. On each device detail screen, I could adjust the fan speed, humidity target range, and set up schedules for each device.
Scheduling allowed me to set automatic start and stop times, and the devices would manage themselves. These features were advantageous as I wanted to optimize the benefit of running the devices and reduce unnecessary run-time to save energy. 
A Missed Opportunity to Educate
Along with controls, each device had a dedicated page with contextual information about that device. I could monitor my air quality levels over time and check the filter status for the air purifier. The device measured air quality in PM2.5 and plotted along a graph comparing indoor and outdoor levels.
I had to look up PM2.5 (particles that are 2.5 microns or less in diameter), and this was a missed opportunity to educate users about what the data being collected means. 
Also included were a few metrics to contextualize the amount of air being purified, comparing it to days spent living in the Amazon and the number of trees planted around my house. These were fun moments but not particularly impactful.
A Less-Rich Humidifier Experience
The humidifier page did not offer as rich an experience as the air purifier. It did include the same scheduling features and a nice auto-off feature, so my room didn't become too humid. A plant watering reminder tool also provided information for ideal humidity levels for your plants. While it's a cool feature, it was hard to navigate and felt very nested within the humidifier experience. 
Running the Devices Simultaneously
Using the two devices together offered insight into two key indoor air quality factors. However, I noticed that when run together in the same room, the humidifier would skew the air purifier's data, as it released a fine mist into the air that the purifier registered as pollutants. 
It would have been nice if the app recognized that both devices were running and offered clarity around my seemingly terrible indoor air quality due to their proximity.
Diving Deeper into the Vesync App's Offerings
Beyond controlling your devices, the app also had sections for Health and Wellness, Store, and Community. Initially, these sections were a surprise as I expected to manage only my air purifier and humidifier through the app. As I mentioned above, I was confused when the app onboarding prompted me to enter personal health details. I later understood this information was relevant for the smart health devices also supported in the app, but since I didn't have one of those devices, the questions weren't relevant.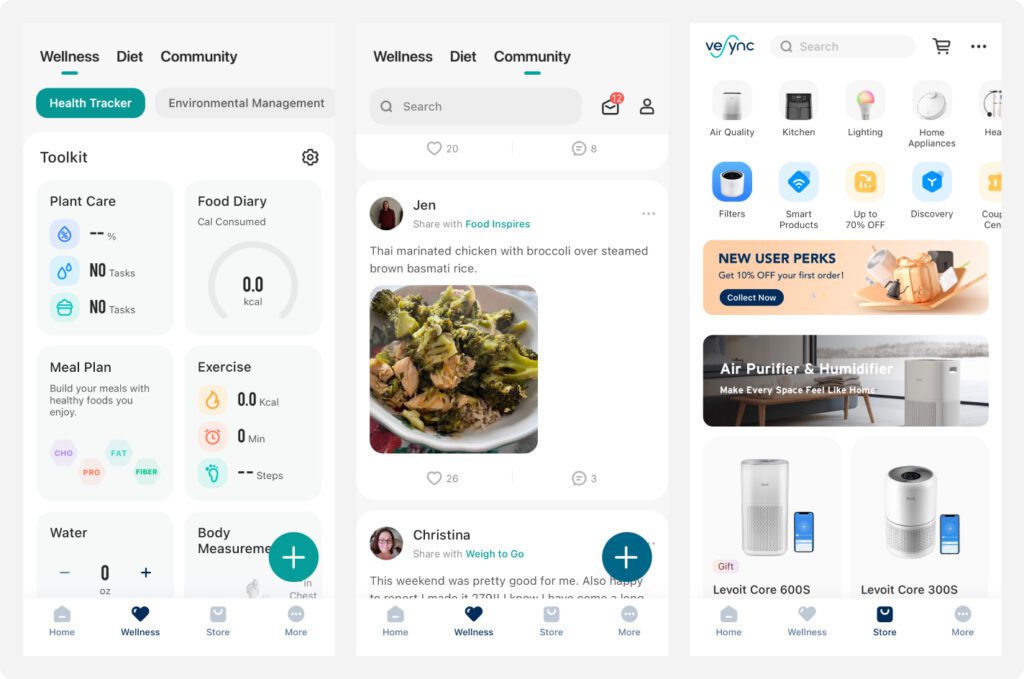 It increasingly became clear that the app had to serve many functions to accommodate the many devices they have in the ecosystem. The numerous features, such as the community, plant reminders, and wellness sections, were all vying for attention but, in the end, were distractions from core functionalities. While some additions, like plant watering reminders, were thoughtfully designed, I didn't see myself as engaged enough to interact successfully with these features.
Keeping my Air Clean… in the Background
While I don't use the app daily, I enjoyed monitoring the PM2.5 levels in my apartment compared to the outdoor air quality. I also appreciate the timely reminders to clean filters and perform basic device maintenance. 
For a short time, the app included a wildfire section. It was a delightful surprise, providing insights into local air quality and potential contributors. Although, pollen count replaced the wildfire feature, potentially due to technical issues. The wildfire data was never up to date.
However, beyond controlling the devices, the app didn't offer other valuable features for me to engage with regularly. Features like plant watering and pollen count were nice but weren't easy to use and felt more like add-ons. For my needs, I would have loved features that gave me data about my energy use or timely alerts about unhealthy air quality.
Overall, the app's main strengths were:
It's simple connectivity.

Real-time air quality data.

Personalized notifications for maintenance tasks.
However, its shortcomings included excessive features that distracted from the device's primary purpose, occasional syncing issues, and a lack of more dynamic information like outdoor air quality alerts or pollen alerts.
The devices have been great additions to my home, offering a broader picture of my indoor air quality while operating silently in the background. The devices have terrific technology, and I think the app could tap into that to create a truly tailored experience.
Tinker & Explore: UX Evaluations of New Products & Services
At Everyday Industries, we're curious about how new technologies and services shape our experience of the world. So, we created a program called 'Tinker & Explore,' where we experience and evaluate new products or services through a UX lens.
Past evaluations include:
WHOOP Health & Fitness Wearable

: A band that tracks fitness and sleep data to provide recommendations for optimizing performance, sleep, and overall well-being.

Ray-Ban Stories Smart Glasses

: Eyewear with integrated technology, allowing users to capture photos and videos, listen to music, make phone calls, and access various other features directly from the glasses.

Forward Health: A personalized primary care service that combines advanced technology and data with doctors to help you monitor and guide long-term health.
We use these UX evaluations to be thoughtful about experience design. We're always open to feedback and would love to have a conversation. So, don't hesitate to contact us if you have any questions.