It is vitally important to understand the role sustainability plays in the choices brands and consumers make and the direct impact those choices have on the environment. Despite brand commitments and some moderate progress, consumers demand more from the brands they support.
In fact, in The Future of Consumer Markets Report, PwC found that over half of consumers prefer to support companies that are conscious of protecting the environment while offering products with a traceable origin.
Brands must move away from the current "take-make-waste" economy and consider a more holistic approach to these pressing issues. Circular economic principles will help transform wasteful industries and further build trust and loyalty between brands and consumers, shaping the future of sustainability.
What is Circularity and Why It's the Key to a Sustainable Future
The diagram below shows the spectrum of economies from linear to circular. In the linear economy model, 100% of an item becomes waste at the end of its lifecycle. In a recycling economy model, parts of an item may be reused at the end of its lifecycle, but others cannot be recycled and are disposed of. Finally, in a circular economy model, 100% of an item's materials stay in circulation and continue the regeneration of materials.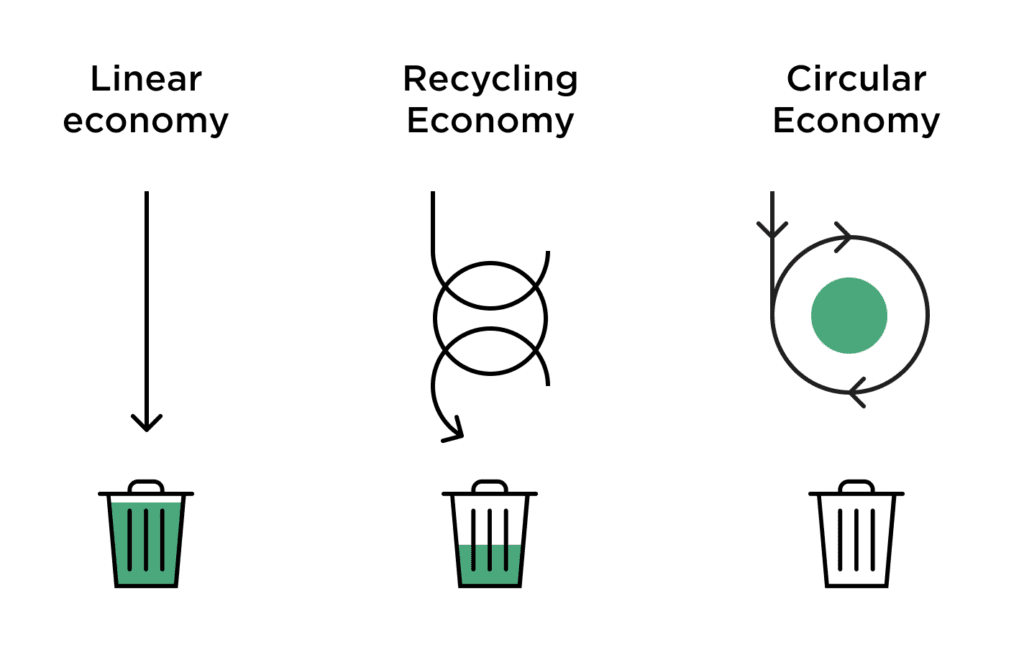 Most brands still operate within a linear economy. In this model, products are designed and manufactured for use until discarded, with little thought for the product's lifecycle. Unfortunately, this model contributes to numerous environmental issues and enormous waste.
Consider the impact of the fashion industry on global emissions. Apparel and footwear alone account for 8.1% of global carbon emissions. That's the equivalent of one garbage truck of clothing being burned or dumped into a landfill every second.
In contrast, the circular economy is a resilient system where products are sustainably sourced, designed to stay in use as long as possible, and recycled back into the system at the end of their lifecycle. This cradle-to-cradle approach ensures we waste as little as possible and guarantees regeneration.
Circularity is not a new concept. As an economic principle, it can be traced back to the 1960s, and today organizations like the Ellen MacArthur Foundation are pioneering solutions to bring industries and brands into the circular economy.
Closing the Loop on Fashion: 3 Circular Strategies That Brands Are Adopting
The investment in a circular model may seem daunting, but there are many strategies to help your brand transition. Here we highlight three ways the fashion industry has adopted a circular model with differing degrees of complexity.
1. Design and Bring to Market a Fully Circular Product Line
A fully circular business model and supply chain are the best approaches when implementing a high-impact circular solution. The goal is straightforward:
Manufacture with simple, clean materials.

Keep the items in use as long as possible.

Collect them at the end of their life to recycle.
Clothing brand Napapijri took on this challenge in creating its Circular Series. Using Nylon 6, a commonly used synthetic polymer, they created entire garments from a single material. Not only is Nylon 6 a durable and abrasion-resistant performance material, but it is also easily recycled.
As a result, the innovative Napapijri Circular Series is Cradle to Cradle Certified Gold, an important recognition that supports Napapijri's mission to reduce fashion waste.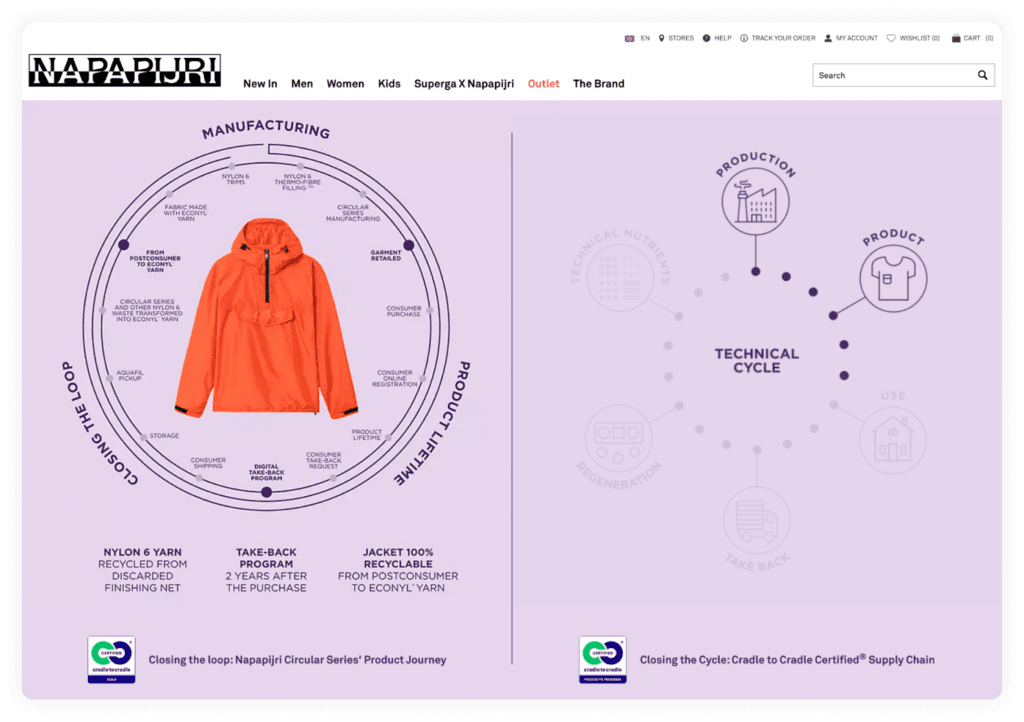 To encourage the recycling of their products, Napapijri also offers a generous return policy. After two years of use, customers can return the used item and receive a discount on their next purchase. The used item is then sent to a recycling partner, chemically recycled, and transformed into new usable material.
2. Create a Recycling or Takeback Program
A recycling program is another high-impact way to engage in circularity. For most brands, this will involve creating a network of sorters, material recyclers, down-cyclers, and resellers to ensure that even the most complex products can be reused rather than end up in a landfill.
For Days is a marketplace of products  exclusively made out of recyclable materials. To close the loop, they provide a recycling program where customers can send in any used textile, from socks to sheets, using their Take Back Bags.
For each Take Back Bag a customer returns, they receive store credit for future purchases. Because the Take Back Bag is a critical touchpoint for the brand to communicate its mission to eliminate clothing waste, they've elevated the bag to their top-level navigation.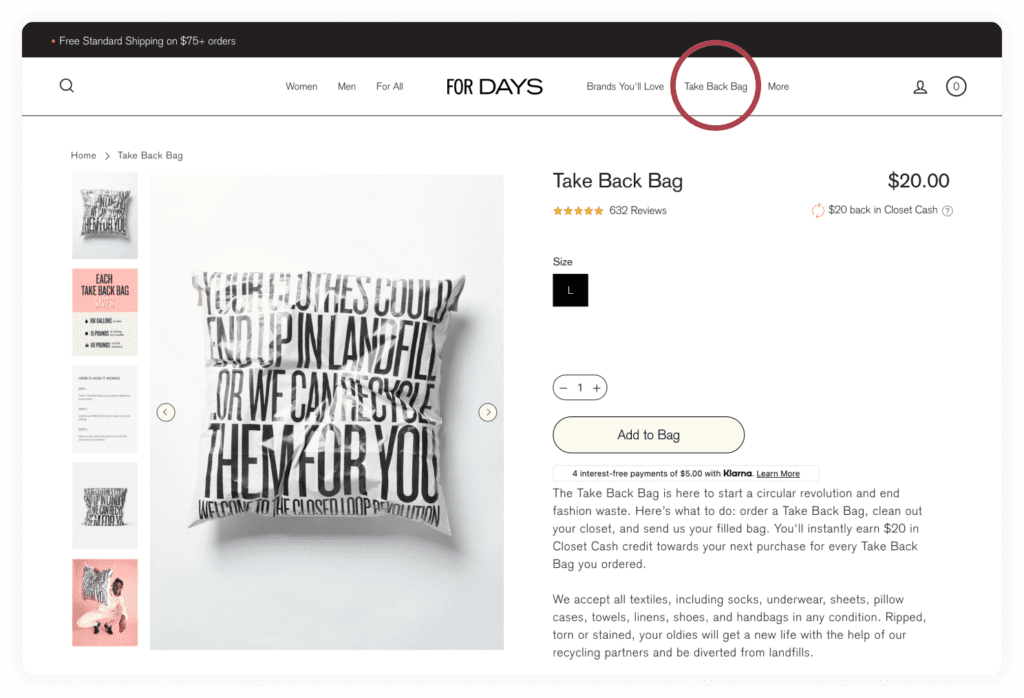 This type of program incentivizes recycling by rewarding customers for participating. In addition, this unique approach of taking back all textiles, regardless of brand, creates a new touchpoint for customers who wish to keep their items from ending up in a landfill.
Takeback schemes are gaining traction as large companies like Philips, IKEA, and H&M begin to address circularity. Taking responsibility for your products at every stage of their lifecycle is an essential first step toward closing the loop.
3. Integrate a Repair & Resell or Secondhand Program
Keeping products in use longer is essential to a circular economy. As the repair and resale industry grows, it's easier now than ever to keep your brand's items in use longer.
Patagonia has long been at the forefront of sustainability. As a slow fashion company, selling as many units as possible was never the goal. Since they design their items with longevity in mind and customers hang on to them longer, Patagonia understood the need to support their aging gear. They developed  Worn Wear, a repair and resell program that helps keep beloved items in use as long as possible.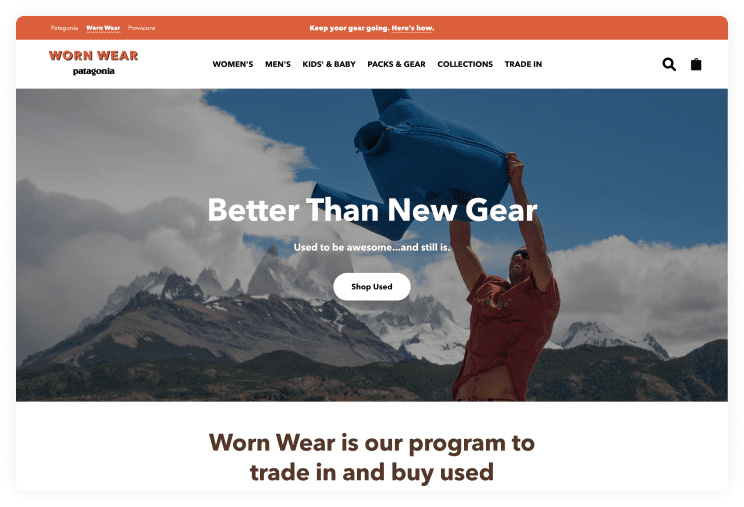 Brands that embrace these repair and resell programs can reap the benefits of a profitable circular program. According to a report by Statista, the global secondhand apparel market is projected to be worth 218 billion dollars by 2026. Younger consumers aware of resale's environmental impact will drive this growth.
Don't Know Where to Start with Circular Fashion? We Can Help
The fashion industry is at a pivotal moment, facing unprecedented pressure to reduce its environmental impact and become more sustainable. So it's time to take action and understand how your customers view the circularity movement. After all, they hold the key to shaping the future of your business.
Are you feeling unsure about how circularity fits into your product strategy? Don't worry; you're not alone. With our expertise in customer research and user experience design, we can help your brand positively impact the environment while becoming a leader in sustainability.