While you most certainly have various strategies working in concert to build buyer confidence, it's worth considering how extending your "about us" story beyond a single page can also boost buyer confidence and improve your site's user experience.
Usually, when a potential customer encounters your "about us" page, it's during those initial research and evaluation stages when they are at a critical juncture. They're searching for information to solve an unmet need and sifting through multiple competitors offering similar solutions.
While researching, they're struggling to understand what differentiates brand A from brand B besides price. So, to learn more, they'll dig into secondary pages, like the About Us page, to try and build context for the products or services you sell. But, ultimately, that's not the best experience. The customer is presented with only one page, which may make it difficult for them to fully understand your story.
So, how can you communicate your unique selling point, establish buyer trust and make customers feel more connected to your brand? Extend your About Us page messaging into a compelling, customer-benefit-led story that you integrate into your site's overall user experience. Not having a benefit-led user experience puts you at risk of fading into the background with all the other brands competing for market share.
First Things First: Your Customer Won't Even Register Your Unique Selling Position Without Good Reviews
During the initial research and evaluation phase of the customer journey, product reviews and testimonials from real customers, brand loyalists, and social media influencers are critical to building buyer confidence.
And let's be honest: without those reviews in place, it doesn't matter how compelling the brand story is. It's unlikely your potential customer will tap beyond the product detail page, let alone explore your site's deeper brand-story-focused pages.
So before you integrate the perfect brand story into your site, ensure your existing customer reviews are at least opening the door for new customers.
Customer Needs & Motivations Should Drive Your Storytelling 
After reading other customers' reviews, there will be lingering questions. That's where your brand story comes into play. The origins of your brand should build buyer confidence by filling in gaps that product reviews and testimonials can't fill. 
Your customers are curious and want to know:
What does this company stand for?

Do their values align with mine?

Who is behind this business?

Why should I trust them?

Is this product safe?"
Your goal is to craft a compelling story that reflects your brand's unique personality and sets your product apart from competitors. With shoppers actively considering purchasing, it's crucial to meet them where they are by speaking to their needs and motivations.
This requires a deep understanding of your customers. So, before you start, ensure your  UX research insights are current. Leveraging customer insights will allow you to integrate your story into your site's experience in ways that resonate with your target audience and compels them to choose your brand over others.
Here are some ways companies integrate benefit-driven brand stories into their site experiences.
1. Aligning the Business Mission & Purpose with Customer Values
Customers are increasingly demanding more from companies in exchange for brand loyalty. As a result, their decision to purchase a product is no longer solely based on its reliability, price or five-star reviews.
In addition to those factors, customers now expect businesses to take a stand and advocate for important causes, such as climate change and social justice issues. In a survey by Deloitte, the second most prominent lifestyle change for shoppers was 'choosing brands that have environmentally sustainable practices and values.' An excellent example of this kind of value alignment and transparency is Wild Alaskan.
Wild Alaskan is a seafood delivery company that delivers 100% wild-caught, sustainably sourced seafood from Alaska to customers across the United States. Their commitment to sustainable fishing aligns with many customers' ethical and responsible consumption values. And they're reminding customers of this commitment across the shopping experience.
First, the website uses clear messaging consistently throughout the user's experience. For example, they immediately highlight 'Wild-Caught and Sustainably Sourced Seafood' on the homepage hero to distinguish themselves from competitors. From there, as a customer builds their box, the site messaging continues to emphasize the company's commitment to sustainability, quality, and transparency, including in checkout, where they've included sustainably sourced badges above the 'Continue to Billing' CTA.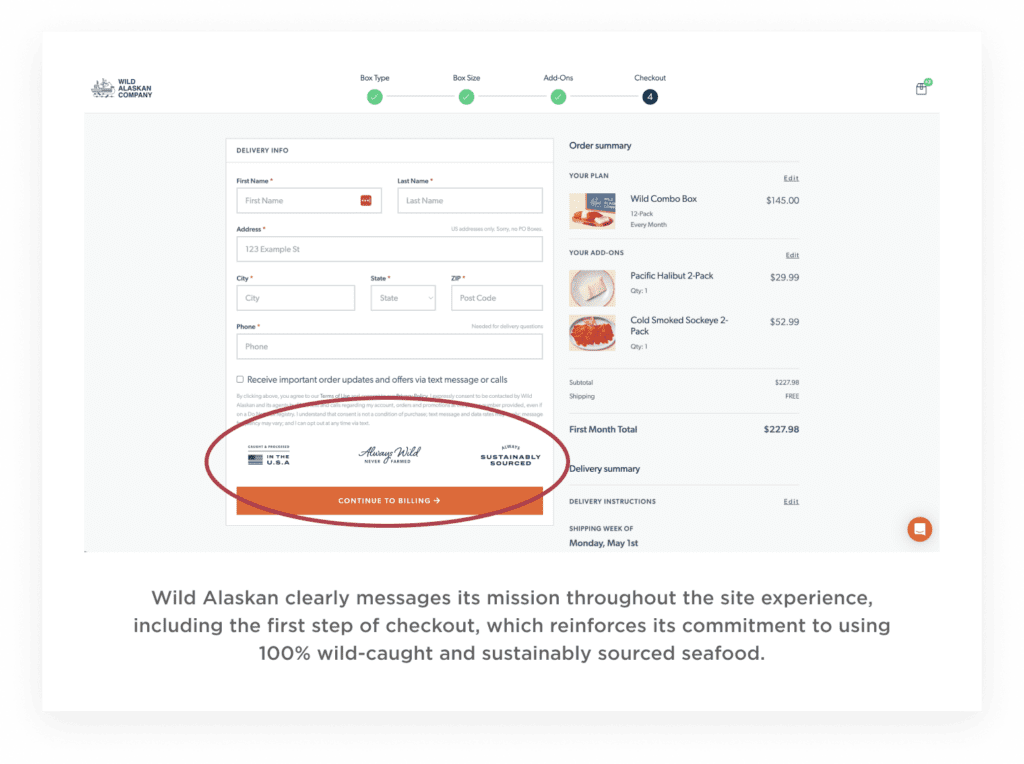 Wild Alaskan also provides high-quality educational resources on its website, demonstrating its expertise and commitment to providing ethically sourced seafood. These resources include articles and videos informing customers about sustainable fishing practices, seafood preparation, and the health benefits of consuming seafood. This type of education aligns with the values of health-conscious consumers who want to know more about the origins of their food.
Along with clearly articulating their environmentally responsible mission and educating health-conscious shoppers about the benefits of their seafood, they are transparent about the causes they support. 
For instance, Wild Alaskan supports anti-mining efforts in Bristol Bay, one of the world's most productive and pristine wild salmon habitats. To protect Bristol Bay, Wild Alaskan has taken several steps: 
Partnering with the Bristol Bay Regional Seafood Development Association to support local fishermen and protect the ecosystem.

Working with organizations to raise awareness about mining risks in the region and advocate for protections for the Bristol Bay watershed.

Making financial donations to organizations working to protect Bristol Bay, including Save Bristol Bay and Trout Unlimited's Alaska program.
Wild Alaskan's customers are loyal not just because the company sells quality food but because they identify with the brand as environmentally and health-conscious consumers.
2. Establishing Customer Trust Through Product Expertise & Company History 
Establishing trust with customers is a critical component of building a successful business. Consumers are more likely to choose companies they believe are knowledgeable, reliable, and trustworthy. One of the most effective ways to establish trust is by demonstrating product expertise and highlighting the company's history. Cerebelly and Molekule are two companies that establish customer trust by reinforcing their product claims through founder stories and product history timelines. 
Cerebelly, a children's food brand, was founded by Dr. Teresa Purzner, a neurosurgeon and mother of three. Dr. Purzner's background in developmental neurobiology and passion for improving children's health through science-based nutrition has been vital to building customer trust. As a result, the story of Cerebelly isn't confined to the brand's Our Story page. In fact, Dr. Purzner's expertise is highlighted on every product detail page, where she explains the ingredients and nutritional benefits in short videos, which helps to establish Cerebelly as a trusted and credible brand.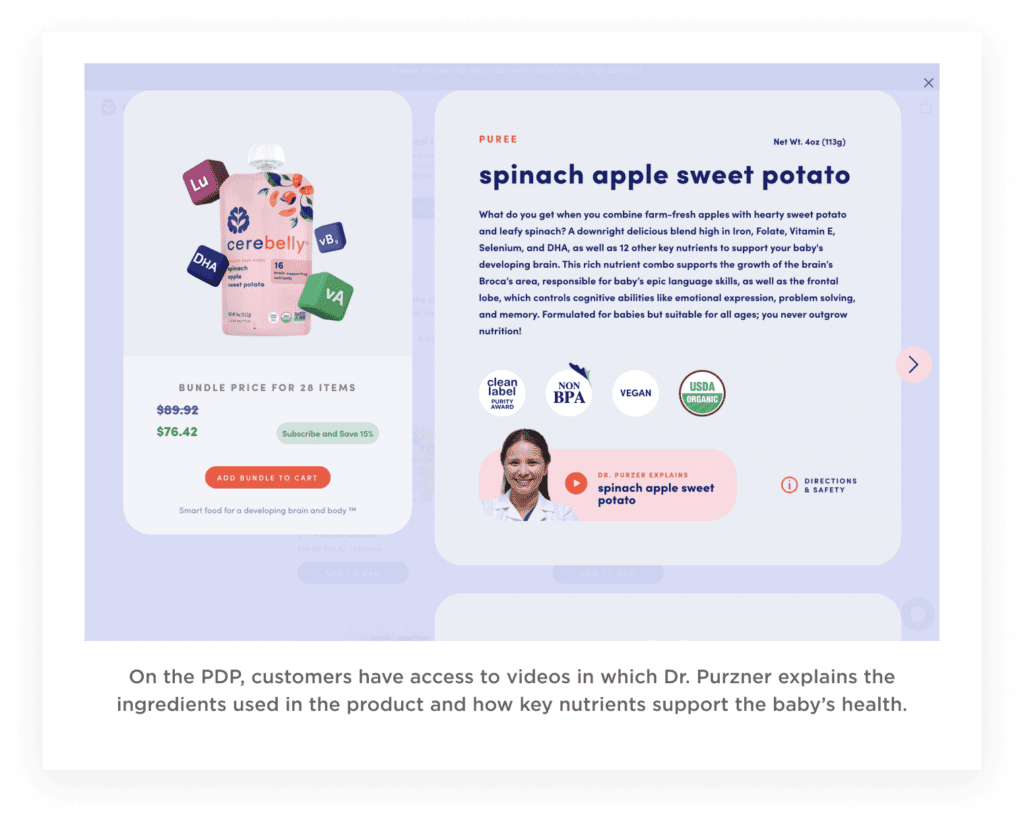 Another example is Molekule, a company specializing in developing air purification systems that use advanced technology to improve indoor air quality. The company's founder, Dr. Yogi Goswami, is a renowned scientist and inventor who has dedicated his career to developing clean energy and environmental technologies.
Dr. Goswami's impact is seen on the extensive timeline outlining the years of effort that went into creating the technology necessary to build the air purifiers. The website also elevates technology into the main navigation. And includes in-depth product descriptions, specifications, and features on the product detail page, as well as videos and articles that explain the science behind their air purification technology. This information helps to establish Molekule as a leader in the air purification industry and demonstrates its expertise in the field.
In addition to the website, they have a team of experts available to answer customer questions and provide support. The company's customer service team includes certified air quality specialists who can provide personalized guidance and advice based on the customer's specific needs and concerns.
Molekule also conducts independent third-party testing on their air purifiers to ensure they meet rigorous air purification effectiveness and safety standards. The company publishes the results of these tests on its website, which helps to build buyer trust by providing transparent and objective information about the performance of its products.
Overall, Molekule's commitment to education, expertise, and transparency helps to establish the company as a trustworthy and reliable source for high-quality air purification products. By providing customers with the information and support they need to make informed decisions, Molekule helps to build long-term customer relationships based on trust and satisfaction.
3. Building Emotional Connections With Customers Through Founder & Team Identities 
No one will buy your product unless they see how much you believe in it. To do that, you must demonstrate how your product claims are rooted in the founder's identity. Omsom, a food company that offers Asian meal starters, integrates the founder's identity into the products they sell in several ways. 
Omsom's founders, Vanessa and Kim Pham are Vietnamese-American sisters who grew up in a family of chefs and foodies. They launched Omsom to make it easy for people to cook Asian dishes at home by offering high-quality meal starters made with real ingredients and no preservatives.
One way that Omsom integrates the founder's identity into its products is through branding and packaging. The packaging features bold colors, playful graphics, and witty taglines that reflect the sisters' personalities and sense of humor. For example, one product is called "The Spiciest One," a nod to the sisters' love of spicy food.
Omsom also includes personal stories and family recipes on its website and social media channels, which give customers a glimpse into the sisters' cultural heritage and culinary background. In addition, the company's mission statement emphasizes its commitment to celebrating Asian flavors and cultures while breaking down stereotypes and misconceptions.
Overall, Omsom's products and branding reflect the founders' identity and personal story, which helps to create a unique and authentic brand identity. By sharing their cultural heritage and passion for food, Vanessa and Kim Pham have built a loyal customer base who appreciate their commitment to quality and authenticity.
Your About Page Isn't Just a Page
A brand story may live on the about page, but its fingerprints should be all over your experience. So make sure you have a story that genuinely sees your customer and anticipates their motivations and needs as they evaluate different product solutions.