Personalizing your users' experience is a guaranteed way to see growth and retain customers. But to add personalized details into a user's experience, you need to know something about them first.
Collecting, analyzing, or parsing through deep data sets on your users can be a barrier to making your personalization dreams a reality. That, or complex algorithms, can have developers throwing up their hands. But that doesn't have to be your fate. 
You already have the data you need to create unique, customized experiences that make your users feel seen, heard, and valued. And that's great news for your product team.
Personalization doesn't have to be a heavy lift. All it takes is knowing the right resources to use and a little bit of creativity.
The Bare Minimum of Personalization Isn't Enough For a Memorable User Experience
You know how critical it is for customers to feel like their journey is recognized and customized. After all, you can't argue with stats like 71% of consumers expect brands to understand their individual needs. It's no longer a nice-to-have feature; it's a mandate. 
But as critical as it is to offer a relevant, customized experience, it can be challenging to pull off. Especially when there's a lack of data or data is so extensive it's nearly impossible to find what matters to your customer. 
Many products end up doing the table stakes: Using a customer's name in friendly greetings and sending them a Happy Birthday email with 20% off. Sound familiar?
You can — and should — go deeper.
Listen, watch, and recognize patterns. Cull information to inform offers that are relevant, valuable, and eye-opening. Present them an experience that isn't boring, one that's all about them. 
To do this requires a bit of creative thinking based on your product and what you know about your customers. But in the end, it pays off in a loyal user base that understands how your product values them every day — not just on their birthday.
Eliminate the Irrelevant by Providing a Customized UX First
Your users may all have things in common, but they're not all the same. This means their experiences shouldn't be the same. Giving your users the ability to customize their experience to fit their needs is personalization. And it's a big step in the right direction. 
Think about it: Applying the same filters or searching for the same products over and over is tedious. So how do you make it easier? Allow customers to save their preferences. 
When a user logs into their account and can start shopping without adjusting a bunch of filters, it reduces unnecessary, repetitive interactions. Plus, it provides an intuitive UI tailored to their interests. 
Retooling your UI to save searches, filters, and items not only makes the path to conversion smoother but also:

Alleviates the problem of choice.

Too many choices can be overwhelming. Remove the decision dilemma altogether by only presenting them with options relevant to them.




 

Confirms you recognize details about their identity.

If they're Kosher (and have indicated that in

their personalization quiz

), but your farm-to-table subscription continues to offer pork products to their order, that's not a good look. Prove to them you're paying attention.

Allows for targeted recommendations of new products.

Take the guesswork out of targeting a new audience. Just look at what your customers have shown interest in to know where to direct your new product launches. 
Real-world example: Take a look at the 1stdibs app. You'll see options for saved filters, saved searches, and favoriting seller storefronts and products. The result is a delightful experience that makes you feel like you're a VIP on the dealers sales floor.
Use Past Customer Interactions to Spin Up Statistics and Personal Insights
If you've ever hit a streak with a new habit, you know how it feels to celebrate it and see how far you've come. And you were probably encouraged to keep going. 
Offer your users the same gratification by looking at their past interactions. Once they've interacted with your product enough, either through transactions or usage, aggregate that data. What can you make of it that can compel your customer to stay engaged? 
Highlight how much money they've saved, how many trips to the grocery store they've eliminated, or how much time they've saved to be with their families. 
Not only are these stats a digital pat on the back, but they also serve to 

Align product usage with customer goals.

Your customer chose you for a reason. Maybe they wanted to improve their health. Perhaps they wanted to simplify their life. Whatever the reason, you can reinforce their progress by providing them insights into how they're doing just that.

Communicate how your product provides value.

We all need reminders now and then.

And your customers do, too

. Showing them their stats only reinforces the benefits of what you're offering, and it's easy to forget that over time.

Connect the customer to a broader community.

There's strength in numbers. And when your customers can feel part of something bigger, that's powerful. Using their personal insights to highlight how they aren't alone can give them a big boost.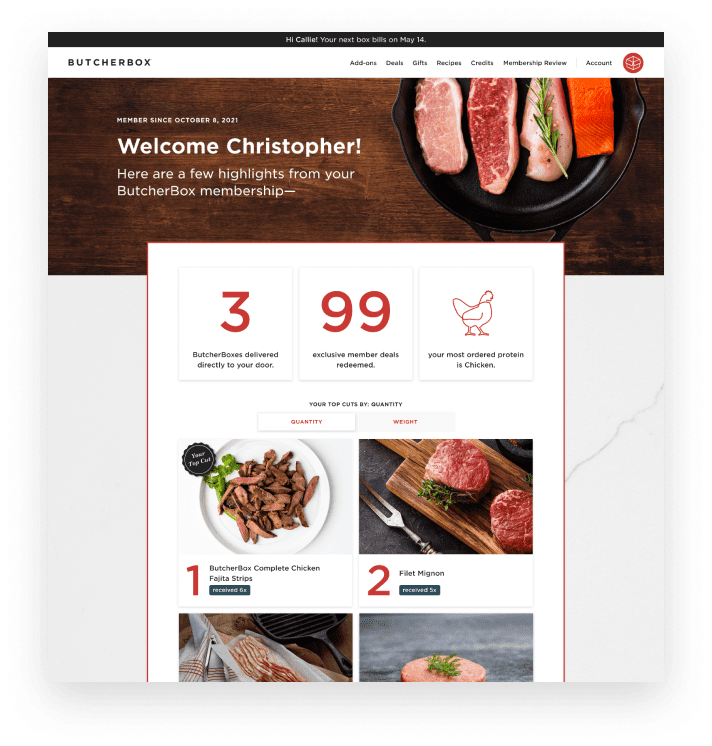 Real-world example: Consider ButcherBox's My Cuts & Recipes page (only available to subscribing members). It shows members highlights from their subscription including how many orders they've received, how many pounds of meat, and their most ordered item. Not only that, but there are relevant recipes for the customer to try based on their order history.
Connect Customers' Progress to Something They Care About
Today's consumers shop their values. They tend to align themselves with brands they believe are doing the right thing. So, it helps them to know that, in turn, they're doing the right thing by purchasing from you. 
Let them know their progress is making a difference, and you can differentiate your product and UX at the same time. In doing so, you also: 
Recognize the customer for being actively engaged.

We all need confirmation we're doing the right thing sometimes. Give your customers a look into the positive contributions they've made by being loyal to your product.

Create an emotional connection.

Developing deeper relationships with your customers happens by evoking positive emotions. If you can show your customers positive ways they're making an impact through you, think about how good that makes them feel. 
Real world example: SuperCircle is all about garment recycling. Just by this, you can assume their customers care about their eco-footprint. So when a customer recycles a dress or pair of shoes, they get data on how many miles of driving emissions they avoided, hours of bulb energy saved, and the number of PET bottles recycled.