Like clockwork, your three-month refill of eco-friendly laundry detergent lands on your doorstep. But, while you may revel in the convenience, is the experience enough to keep you from looking for greener pastures next quarter?
Although it's an excellent tactic for reliable revenue, the set-it-and-forget-it approach can sneakily stifle a richer customer experience, making your subscription product or service less and less sticky over time: cue customer disengagement and churn.
To retain your subscribers and sustain brand loyalty, offer an experience that makes customers feel like VIPs — no membership necessary.
Making the Subscription Experience Go a Strategic Step Beyond
There are a multitude of reasons why your customers may decide to cancel their subscription. Maybe they have more product than they know what to do with and can't keep up. Or perhaps they're not getting the same value as when they first signed up. Other times, customers get bored and search for something superior. 
Though their motivations for moving away vary, it's safe to say they've gone through the emotions: First, the curiosity of finding your product, then the conversion point of deciding to try it out. 
Now they are in the most critical stage where each time their order is dropped at their door; they evaluate if the subscription is worth it. At this stage, customers are most likely to hit 'renew' when they feel engaged with the product and can invest in the brand in new and different ways. 
In other words, they need a subscription experience that goes beyond the blissful mindlessness that a set-it-and-forget-it method promotes. To spur them to sign up again, customers need something that feels like being part of an experience where they're a VIP.
Think about it: Anyone can be a subscriber. But the allure of membership is found in its exclusivity, perks, and sense of belonging. While you may not call your experience a membership per se, offering the same top-tier perks and community can make customers feel like they carry the card anyway — and keep them coming back. 
Offering the Velvet Rope Experience for Subscription-Only Customers
It feels special when you're rewarded for your brand loyalty, right? So turn up the volume on that exclusivity feeling by offering subscriber-only access to certain products or services.
A subscriber-only offering can take the form of: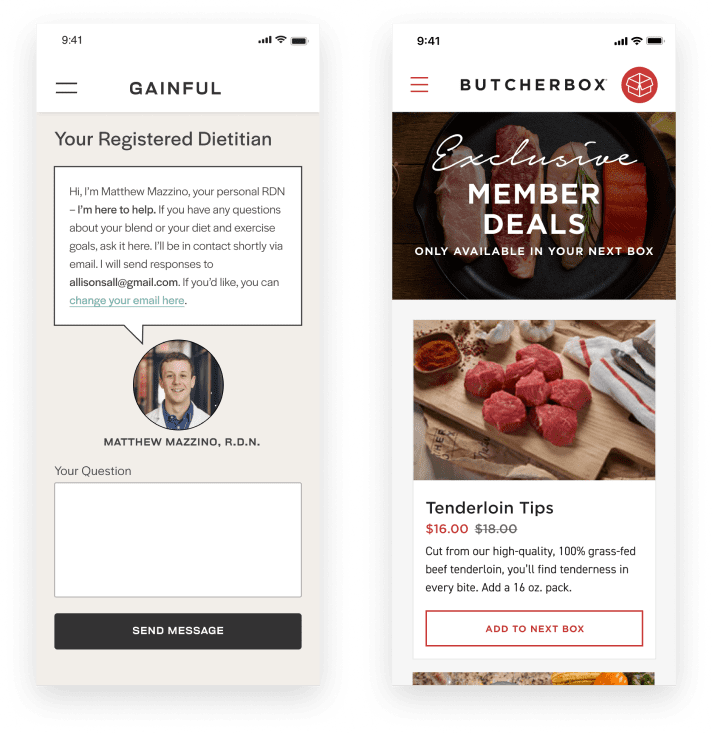 Maybe you try a combination of offerings. Or perhaps you consider trying out one value-add at a time. Whatever you do, make sure that what you're providing is something you know your customers will value—knowing what they value may require you to gather insights through user research before launching your new initiative.
Root Your Customers to Your Brand by Fostering a Deeper Connection
Predictability is one reason the fulfillment subscription method is so popular. Who doesn't like a routine? The thing is, it strikes the option of sending something new and different in each shipment. And therein lies the difference between a fulfillment and a VIP-esque subscription experience: monotony.
Giving customers something new and compelling shipment after shipment connects them to your brand in dynamic ways. It engages them in a way a routine refill can't because it invokes mindfulness, not a mind numbness. And best of all, it gives them something to look forward to shipment-after-shipment.
To do this the right way, you must know your customer — their past purchase history, preferences, and motivations for signing up for your subscription in the first place. The more you can get into your customer's minds through user research, the better you'll be able to serve them with something they value. So, what can you learn? Then, what can you offer based on your insights?
As an example, let's consider a small-batch olive oil subscription. With each monthly shipment, you could add tasting notes and pescatarian recipes to try for that customer (who indicated their dietary preferences in their personalization quiz.) Top it all off by adding a letter from the founder about how this particular shipment is unique (because you noticed they spend time on your site reading background stories.) 
Thoughtful details like these add up to a richer experience and forge a tighter relationship between your customers and brand. 
Strengthen Relationships With Customers By Celebrating Them
All relationships rely on trust and appreciation. The longer your customer sticks by your side, the more trust you build with them — and recognition you should give back to them.
So show your steadfast customers you see them — and what you continue to bring to the table.
There are a few ways to do this:
Show the impact. 

Does your brand have a social good campaign? Leverage it by telling your customer how much of an impact their subscription has made. People love to know their eco-conscious efforts pay off. How many pounds of carbon have their purchases offset? How many pounds of waste have they diverted from landfills? Let the numbers tell the story.

Celebrate savings. 

Reinforce the value your customers have taken advantage of and will continue to as long as they're with you. How much money have they saved? What is that amount equivalent to? It's hard to deny value when it's so transparent.

Offer loyalty rewards.

 Everyone likes a treat for making it to a new milestone. So celebrate your customer's commitment to your brand with an unlocked reward. Motivate them to reach the next milestone by giving a preview of what other rewards are to come.

Feature new or relevant services. 

It can be easy for subscribers to miss out on new or existing features that would be relevant or exciting to them. Make sure they know what's available by highlighting what's new or what may be attractive to them based on their purchase history. You'll remind them how much you pay attention to them, entice them with something fresh, and increase conversions.

Get their input.

Finally, make an active effort to get your customer's feedback. Especially as they reach certain milestones — six months with the service, or after three shipments received or orders placed, a change in subscription plans, or addition or subtraction to their regular order. Your most loyal members will tell you where they want changes, why, and how. Involve them this way, and you'll increase their commitment, trust, and engagement.
While there are many different avenues for keeping your customers glued to your subscription, ensuring their experience is membership-worthy only increases the odds of renewal. By providing thoughtful, valuable, and inimitable pathways to connection and engagement, you'll be the club to line up for.